Profile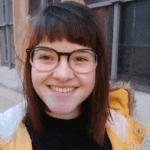 Edwina Yeo
Curriculum Vitae
Education

I went to an all girls school in Brighton. Then went to a large college.

Qualifications

I did Maths, English, Chemistry, Physics Biology, History, Geography, Art and French.

Work History

I have done lots of small jobs mostly in restaurants, cafes and bars. Including: waitress in a small cafe then a waitress in a burger restaurant (this one had tasty benefits!), temporary hire staff for events such as weddings or dinners. When I was a bit older I started to work helping people prepare for their GCSEs and A Levels.

Current Position

I work in the Maths Department. I am a first year PhD student.
Favourite thing to do in my job: I like seeing videos of medicine travelling through the body which I make on my computer.

About Me: I love chilling out with TV or rock climbing.

Read more

I live in Oxford with 3 friends who are also students. In the evenings I meet up with my friends or chill out watching TV shows (I get really addicted to shows so easily!)  On the weekends I love rock climbing and being outdoors. If I'm not outdoors I visit my family who live in London (my sister has a puppy which makes me visit her very often!). I use pronouns she/her.

My Work: I am studying how maths can be used to help medicine! I solve maths equations to try to predict how well medical treatments will work and how to make them better!

Read more

I currently work with biologists trying to make new treatments for people who have arthritis. They try to give some medicine to knees (where people get pain as they get old). I help them by figuring out the right maths to make predictions of this. I then solve the equations (usually on the computer as they are quite hard!) to help the doctors decide how to inject the medicine and how much.

My Typical Day: I usually spend time reading about other people's work to get ideas, writing code to solve my equations and being a bit stuck (This can be frustrating but satisfying when you figure things out!).

Read more

On a normal day I get into my department at around 9am. I spend my day reading work from other scientists to get ideas on how to improve my own maths. Since the equations I use are difficult to solve by hand I spend a lot of time writing code on the computer to solve them.

I might have a meeting with the Professors I work with. Here I can get help, chat about ideas and show them what work I have done.

I spent a lot of time trying to figure out things which confuse me (this can be frustrating!) but satisfying in the end!

Why did you choose Oxford?: I chose Oxford because there are lots of people doing very exciting and interesting work here. I met very friendly Professors who encourage me to try hard things which helps me learn a lot.

Read more

The maths department at Oxford felt very welcoming. There was a lot of encouragement and idea sharing which was a really nice feeling!

My Interview

What was your favourite subject at school?

I really enjoyed science at school!

Were you ever in trouble at school?

I used to chat a lot in classes and I got in trouble for that a few times!

What's your favourite food?

I really love lasagne and garlic bread.
---