Profile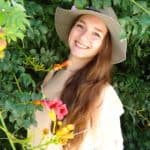 Galina Badalova
Curriculum Vitae
Education

Mill Hill School in London for my A levels, and pre-med Lyceum 214 in Saint Petersburg

Qualifications

A Levels (Chemistry A, Mathematics A, Russian A*, Further Mathematics B) and EPQ in Psychology GCSE Equivalents - 14 A*s and 3 Bs (embarrassingly, got a B in science - the irony!)

Work History

I was a temporary hire staff at events, most often you'd find me behind the bar or behind the camera lens.

Current Position

PhD student in Organic Chemistry
Favourite thing to do in my job: Attending and delivering seminars, as well as trying out new things in the lab!

About Me: Doing a PhD in Organic Chemistry at Oxford University. Looking into ways of synthesising a substance derived from scallop's digestive glands that may be very useful in cancer treatment.

Read more

My name is Galina and I am currently a PhD student at Oxford University. I was born and raised in Saint Petersburg, and I moved to England when I was 17. I did my A levels in Mill Hill School, and then did an intergrated masters in Chemistry at Durham University. During my studies in school I have very much enjoyed singing in the chapel choir, as well as doing some cross-country running. I have had the best time in Durham both academically and socially, and have met the best people who I am fortunate to call my friends.

Apart from obvious interest in Chemistry, I am an avid reader and photographer. My favorite subject to photograph are flowers and capturing little nuggets of happiness during my travels. I also absolutely love horse riding and dog walking – always feel at my happiest when surrounded by nature and animals.

My Work: PhD student at Oxford University

Read more

In 2018 I joined the Donohoe group here in Oxford and am now working on the synthesis of small molecules with therapeutic applications, working towards total synthesis of Pectenotoxin-4 (potential anti-cancer drug lead).

My Typical Day: 7 am - 6 pm

Read more

So my days are usually packed with action!

I try to get to laboratory by 7am (9 am latest, if I have rowing in the morning) and I tend to stay till 6pm. Majority of my work requires hands-on approach, so I spend a lot of time doing practical things. I also spend quite a bit of time analysing data and reading literature related to the subject.

At 10.30 am every day we go for a tea break with my research group which we call "brew" and it is not to be missed! I also attend lectures and seminars, they are usually held at 2 pm.

After day of uni, I like to go on a walk with friends, or play boardgames.

Why did you choose Oxford?: So I can learn from the best and be surrounded by people with most wonderful ideas.

Read more

I have loved Oxford as a city from my very first visit as a tourist in 2008 (I was 14 then). It was then when I decided in my heart that I would love to come back and live here.

My Professor is a wonderful person and brilliant supervisor, and with his encouragement I felt immediately welcomed in Oxford. My project is very challenging, so I am very grateful for his continuous support and advice.

My Interview

What was your favourite subject at school?

Maths, Music

Were you ever in trouble at school?

No never. I was a school prefect and sung in a chapel choir - no room for trouble!

What's your favourite food?

Well done steak for main, ice cream for desert.
---