Profile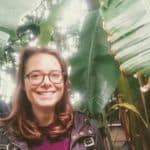 Philippa Sinclair
Curriculum Vitae
Education

I went to an all-girls school in London.

Qualifications

I did Biology, Chemistry, Physics, Maths, Religious Studies, English Language and English Literature which were all compulsory. I chose to do Music, ICT, History and German.

Work History

I have done so many temporary holiday jobs, including bartending at my local sports club, being a shop assistant at pop up summer shops, and being a steward at Wimbledon Tennis. I also had a go at being a mystery shopper for a while which was fun but not something I usually tell people about! Most recently, I worked at a florist as an administration assistant when I took a year out of my studies. It was fun because the people I worked with were lovely and the flowers were beautiful.

Current Position

I work in Plant Sciences and I am a first year PhD student.
Favourite thing to do in my job: View colourful fluorescent proteins in the plant cells I work with.

About Me: I am a first year PhD student in the plant science department at the University of Oxford 🌱 It took me a while to like plants but now I think that they are amazing! I like living in Oxford because I can cycle everywhere and I see my friends and play badminton in my spare time.

Read more

I currently live in Oxford, where I am looking into photosynthesis in plants 🌿 At school I enjoyed science which led me to a Biological Sciences degree at the University of Bristol. I loved living in Bristol because the city is so fun, and after 3 years I decided to continue studying so I applied to Oxford.

I live with other students in Oxford which I enjoy and is very sociable. Most evenings I cook, watch Friends on Netflix or play badminton, and at the weekend I am always busy in Oxford or London seeing friends and family.

My pronouns are she/her.

My Work: I am looking at photosynthesis in plants. Photosynthesis enables plants to capture energy from the sun which is made into sugars that power the plant.

Read more

I will be doing a high-throughput experiment to find undiscovered transcription factors (proteins that bind to DNA in the nucleus of the cell) that are important in turning on or off the production of proteins involved in photosynthesis in plant leaf cells.

The first step in my project is to make leaf cells into a form where I can manipulate them, because I want to introduce DNA into them. So far, I have spent two months working hard practising making these cells. They are so beautiful! I place several leaves into enzyme solution and the enzymes digest away the plant cell wall, which releases millions of plant cells held together only by the cell membrane into the enzyme solution. I can then collect and wash these cells, called protoplasts, and then 'transfect' them with DNA, which just means making them take up fragments of DNA that I have chosen.

I have been surprised how long it has taken to be able to do this technique. The cells are incredibly delicate without their cell wall so for a while they kept breaking. Now I am able to make them (mostly) without them breaking, I can insert the DNA and then look for cells that fluoresce more, which would indicate greater production of photosynthetic proteins.

To begin with, I am checking that I can make the cells take up DNA using green fluorescent proteins. I transfect the cells with DNA that encodes the green fluorescent protein, and the machinery of the cell produces the fluorescent protein over 12 hours. Because the protein is green and fluorescent, I can look down the microscope to see if has been produced by the cells. The cells are really beautiful and I feel very lucky to be working on them every day.

An example of my cells: The green is GFP fluorescence, the red is autofluorescence from the chlorophyll and the grey image shows that the cell is in tact.

My Typical Day: Every day is different, but I spend about half my time in the office and half in the lab.

Read more

I love that every day is different as a PhD student, and that I get a lot of freedom to plan my own time.

Every day is spent both in the office and the lab. I spend about half my time in the office, catching up on emails and planning or writing up my experiments. The other half of my day is spent in the lab, which I enjoy.

I also have two weekly meetings. The first weekly meeting is with my lab colleagues, where someone presents their research and we discuss what they're doing. The other meeting is with my supervisor, where we catch up on my progress on my project, solve problems that I'm having with my experiments and talk about ideas for future work.

Why did you choose Oxford?: I chose Oxford because there is lots of interesting research being done at the University, there is state-of-the-art equipment for my experiments and also because I thought I would enjoy living there.

Read more

When I applied, I got in touch with my supervisor who is doing interesting research and discussed possible projects with him. I chose Oxford because I liked the sound of the project I would be working on and because I got on well with the other lab members when I visited.

My Interview

What was your favourite subject at school?

I liked science best at school.

Were you ever in trouble at school?

Yes, mostly when I forgot to bring my homework in.

What's your favourite food?

Pizza! So predictable.
---